By: Katherine Monroe
When a fire engulfed two structures at the Tea Garden Apartment complex in Arcata on Feb. 2 at 2:25 a.m., 10 Humboldt State University students found themselves without a roof over their heads. Some students lost everything but the clothes they were wearing that night. These are their stories.
Julian Cardenas
Half of junior biology major Julian Cardenas' apartment burned and half suffered water damage. When his co-workers at Target found out what happened, the first thing they asked was, "What can we do?" Target gave him a $50 gift certificate to help put his apartment back together. Another co-worker gave him a $25 gift certificate. "Don't feel sorry for me," says Cardenas, "I'm okay. Some people lost everything."
Cardenas' girlfriend Cinden Zuspan woke him at 2:30 a.m. when the neighboring apartment building was on fire. Cardenas saw an orange-red glow coming in through their living room window. He had enough time to change out of his pajamas, grab his laptop and guitar before exiting the building.
Outside, Cardenas thought to himself, "This is not happening." Time sped up as he stared in disbelief. Already having a difficult time breathing, Cardenas and his girlfriend took a short walk to get some fresh air and calm down. Their building caught fire just as they came around the corner. Cardenas watched the flames jump from the first building to his own. "It just happened all of a sudden," says Cardenas.
Watching the building burn and feeling like a force of nature was out of human control was the worst part about the fire for Cardenas. Fortunately, Cardenas' and Zuspan's apartment was one of the few that were least affected by the actual flames. They lost a bed, a futon and some kitchenware.
Cardenas received $120.00 worth of gift cards from Target and $4,000.00 in grant money from Student Affairs. HSU offered him a week's stay in the dorms and $60.00 worth of J points. He and his girlfriend moved their deposit and rent for February to another apartment complex on K and 12th streets through the same property manager. Cardenas says the whole event made him stronger. "It really helped me to understand that nothing in life is permanent and to appreciate what you have while you have it. Material things are replaceable, your life and others aren't."
Jonathan Vu
Junior finance major Jonathan Vu woke from his peaceful sleep to the sound of pounding on the doors of the apartments below. He thought it was just another drug bust–until police knocked on his door. Police told him he had five minutes to grab necessities and get out. Vu grabbed his laptop, school textbooks, passport, social security card, honor paperwork, some sentimental photos, a change of clothes and a jacket before heading to his car and up the hill away from the flames.
For Vu, the whole night seemed like a dream. "It just didn't feel real," said Vu. He slept the rest of the morning at a friend's house and was not permitted to go back to his apartment until at least 9 a.m.. He explained to his teachers in e-mail why he would be absent. His teachers excused his absence and gave him advice on where to go for shelter, food and psychological services.
Vu still lives at the Tea Garden Apartments. Smoke damage was the only casualty to his unit. Since he was not displaced for more than one night, the housing and meal benefits were not extended to him by HSU.
Since the fire, Vu has nightmares. One takes place back in his hometown and he is asleep in his room. His dad wakes him and tells him the house is on fire. He and his family run outside and watch their house burn. The second nightmare takes place in the apartment he lives in now. He comes home after school to see his apartment burnt to the ground. Vu wakes from his nightmares and checks to see if his apartment is on fire.
Vu regrets not looking at the structural integrity of the apartment building before moving in.  In light of the fire, he wishes he had thought twice prior to choosing to live in the Tea Garden apartment complex. Vu now makes sure he turns off the heater and locks the door before going to bed each night.
Help from HSU
President Rollin Richmond issued a campus-wide e-mail on February 3, 2011. The release said an account was set up in the Sponsored Programs Foundation to help the displaced HSU students. The e-mails said donations could be made at the HSU Gift Processing Center and put into the account entitled Student Life Trust.
Kay Libolt of the Gift Processing Center says members of the community started calling the day of the fire. Callers offered spare rooms, couches, clothing, furniture, groceries, towels and more. The Rotary Club in Arcata donated pillows and sheets while other property management offices called in about apartments for rent. The Red Cross also offered to pay for the loss of the student's glasses and contacts. Other contributors include K-Mart and Redwood Community Action Agency.
Once the donations and phone calls started coming in, the Gift Processing Center needed an account to put the contributions in. No account existed for disasters prior to this event. There was an existing account called Student Life Trust that the Gift Giving Center could filter the donation funds through and decided to do so until the donations stopped which was around March 11, 2011.
There is now a pile of charred rubble where two of the Tea Garden Apartment buildings once stood. Bulldozing began in early March and construction workers are slowly hauling away the former homes of 10 Humboldt State students.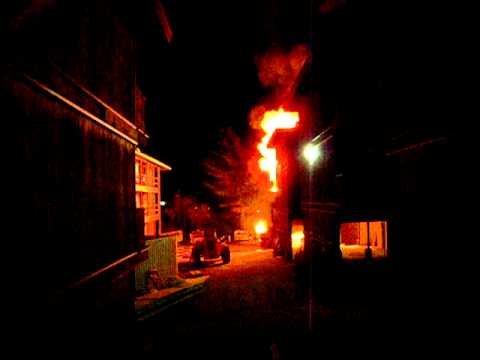 Want to read the Times-Standard coverage? Click below
Fire guts Arcata apartment complex; 16 people displaced
Victims from Arcata fire moving on; officials have yet to determine cause of blaze
Victim from Tea Garden blaze tells his story; reward for information doubled
Sifting through the ashes: Investigation continues into cause of Tea Garden Apartment fire
Fire Safety